Tuesday, April 27, 2004
Final Project--An e-Portfolio


Your completed projects and activities of this semester will be collected and presented in an e-Portfolio. An e-Portfolio is a web/browser-based front end for your digital work.


Here are the steps. The procedures will be given live in class.



Create a webpage as the portal for your e-Portfolio.

Create a second menu page that links to each of your projects.

Create graphics in Fireworks to enliven these two pages.


Note. There are some operations that will need to be performed on your existing projects to make them suitable for linking from your memo page.





Tuesday, April 20, 2004
April 20, 2004

This week's classes are the time to finish your teacher webs. Each page is worth 40 points. Each page must be designed well, have significant, appropriate text (with citations, if borrowed), a picture or graphic, a title or identifying element, and navigation/links to all the other pages.

Thursday, April 08, 2004
Rubric for Teacher Webs

Length: 5-6 pages
Each page has a picture (at least one), and meaningful text
"Meaningful text" means lessons/ideas/activities related to your theme
Each page has links to every other page

Tuesday, March 30, 2004
Dreamweaver and Web Authoring
No bad dreams with Dreamweaver. This is a professional tool for web authoring.
You are creating a teacher's website. We begin by gathering assets. Google some information on a teacher's topic of interest. Copy the text and paste to Notepad. Make a note of the source (do not plagiarize). Also copy the URL. Then Google some images that go along with it. Save these to your desktop.
Follow the verbal tutorial given in class on begining Dreamweaver.
Thursday, March 25, 2004
Today we are learning the easy trick of adding other participants to your blog.
After you learn this and begin interacting with oither classmates' blogs, you'll know everything you need to know to do basic blogging.
Then your assignment is to post daily to your blog and interact with others for seven days. Then you'll be graded on:
1. The overall quality of your blog as measured by links, good content, and images.
2. Daily substantive posting for one week.
3. Quality and frequency of interaction with another classmate's blog (at least five interactions).
Monday, March 22, 2004
March 23, 2004

Blogging, Part II

Continue creating your blogs. You should have posted several entries by now. If you haven't, post some today. Each should have a picture and a link.To create a link, type the code you have in your notes you got last class.

If I cannot make it to class today, you can go to a student lab and continue blogging.

Remember that the content of your blog is your PBL project. Imagine it as it unfolds day-by-day. Use your imagination to envision what might happen if you really did a project with your class. Then write down what you "see."

Tuesday, March 16, 2004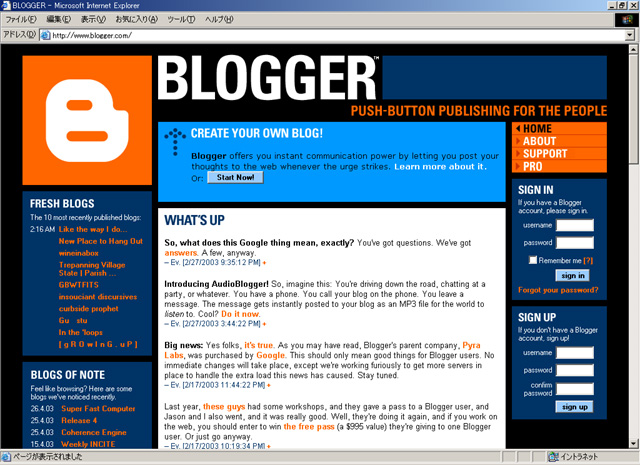 Educational Uses of Blogs
Today we beging constructing an educational blog. You'll quickly learn how. The trick is to create situations and opportunities in the classroom for your students to blog.
Read the selections below. You'll be required to know and understand the theory of educational blogging.
Background reading: What bloggers do.
"...you use your blog to link to your friends and rivals and comment on what they're doing. Blog posts are short, informal, sometimes controversial, and sometimes deeply personal, no matter what topic they approach. They can be characterized by their conversational tone and unlike a more formal essay or speech, a blog post is often an opening to a discussion, rather than a full-fledged argument already arrived at.
As bloggers, we update our sites frequently on the content that matters to us. Depending on the blogger, the content varies. But because it's a weblog, formatted reverse-chronologically and time-stamped, a reader can expect it will be updated regularly. By placing our email addresses on our sites, or including features to allow readers to comment directly on a specific post, we allow our readers to join the conversation. Emails are often rapidly incorporated back into the site's content, creating a nearly real-time communication channel between the blog's primary author (its creator) and its secondary authors (the readers who email and comment).
Click to see article.
"Weblog development is an example of how the Internet has been brought into the classroom in advantageous yet feasible ways. In its early stages, only those who had access to business, university, or research computing facilities could make materials available on the Web. However, in recent years, Web page construction platforms have been made widely accessible through a number of free or low-cost services. For example, through such online communities as Geocities and Tripod individuals can use editing tools for free and have their personal pages hosted in a secure place. In comparable ways, weblog construction has been supported through free services that offer easy-touse templates and hosting facilities. For example, http://www.Blog er.com describes itself as "PushButton Publishing for the People" and declares that "Blogger offers you instant communication power by letting you post your thoughts to the web whenever the urge strikes." Blogger has been sustained financially through user contributions, and has been partially supported since April 2001 by Daniel Bricklin's Trellix (Cohn, 2001); many educators and students have their weblogs hosted there. Other free or inexpensive blogging communities include Groksoup (http://www.groksoup.com . The "Scribe" system is specially designed to help high school students construct weblogs using nothing but a browser (http://www2.hawthorn.k12.il.us/scribedemo/page$1)."
Source.
"Weblogs and the development of students' voices"
"The weblog has many dimensions that make it well suited to students' unique voices. Weblog development can empower students to become more analytical and critical; through actively responding to Internet materials, students can define their positions in the context of others' writings as well as outline their own perspectives on particular issues. Weblogs can be topic oriented or wide ranging and can incorporate various amounts of personal or autobiographical information. Weblog construction involves a continuing time commitment and can reinforce important lessons about the value of perseverance. In a university course I taught on website construction, weblogging was used to acquaint students with the basics of Internet content development as well as to reinforce critical thinking skills. Because the weblog genre is simple in structure, it may lend itself easily to cross-cultural educational initiatives such as those described in Kapitzke et al. (2000-2001)."
"Many high school and postsecondary students already have access to a form of Internet "voice": personal home pages or their family's page. The basics of weblog form and style are comparable to those of the home page, although there are some significant differences. Personal home pages generally convey a portrait of individuals' accomplishments and perspectives, rather than provide day-to-day logs of intellectual and social activity. Dillon and Gushrowski (2000) described the functions of the personal home page as having "evolved very quickly into a standard form that shares many common elements and features" (p. 206). Expectations for the graphical and stylistic features of personal home pages were established in the past through informal communications, education, and media commentary (such as Thomas, 1996); these expectations that arose as new, powerful design tools became widely available. However, in contrast with personal home pages, weblogs emphasize plain text and the presentation of Internet links in a chronological sequence. Weblog construction has thus displaced the development of personal home pages in some contexts, especially in situations where individuals want to focus on particular topic areas rather than presentation."
"For more advanced students, educators can use weblogs in discussion forums as examples of the evolution of a new mode of communication. Weblogs apparently "emerged" as a format, rather than being invented by a particular developer or institution. A number of weblogs originated at approximately the same time in the late 1990s (see http://www.chymes.org/hyper/weblogs.html). Weblogs can help to analyze the power and influence of hyperlinks, something that many students may take for granted in their everyday Web surfing. Hyperlinks are essential aspects of weblogs; readers are invited to follow the hyperlink to the materials in question. The advent of hyperlinking has been heralded as comparable in importance (in terms of intellectual history) to the invention of movable type (Landow, 1994). For the reader, hyperlinks provide wider ranges of control than traditional textual formats; for example, weblog readers can obtain quick and direct access to various materials rather than a secondhand description or paraphrase of them."
"Although weblogs are relatively new, they have roots in other genres that may already be familiar to students. Today's weblogs are comparable to journals in their styles, providing matter-of-fact personal reflections along with related hyperlinks. The personal journal has a long legacy; individuals have written journals for everyday expression, using them to record their reflections in systematic fashion and review their personal changes over time (Eakin, 1992). Kehus (2000) described a project that gave teenagers the means to place personal accounts online, thus enhancing their literacy skills. The travelogue is yet another genre with ties to the weblog. Travelogues of frontier explorers have long played important roles in informing the travelers' peers about their adventures and in providing perspective on particular cultures. Weblogs serve comparable functions to the travelogue in the "new frontier" of the Internet. Also, by providing hyperlinks to the materials the individual is writing about, weblogs can take the reader along on a journey comparable to the original one being described. Educators can ask students to compare and contrast travelogues with weblogs and perhaps develop "virtual travelogues" of their own using weblogs to portray a particular country or region."
Source.